It's obvious that HTML5 is being embraced to a certain extent, but how many Web sites have really converted? There's no way to get an exact number, but we can get a good idea of the progress being made by taking a look at the most popular sites on the Web.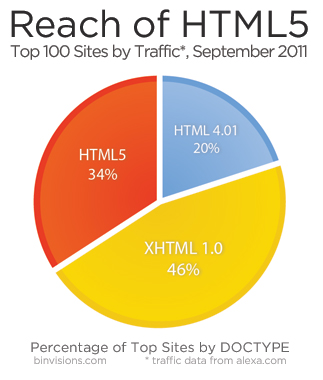 I decided to take a look at the 100 most trafficked sites for September, as ranked by Alexa. To get a broader view, I eliminated sites that were listed multiple times under various domain extensions and included the next domain on the list. For example, Google.com is included in this data, but Google.co.uk and Google.com.mx have been excluded since they all use the same code.
Let's take a second to look at the makeup of the Web sites that are among the 100 most visited on the internet.
At 17%, Social Media sites held more spots than any other industry.
Not far behind were Technology properties at 13%. These are sites that mainly offer software downloads, like Mozilla.org, Microsoft.com, and QQ.com.
13% of the listings were held by Search Engines.
Adult, Entertainment, and News Web sites each came in at 7% of the sites in the top 100.
The rest comprised of